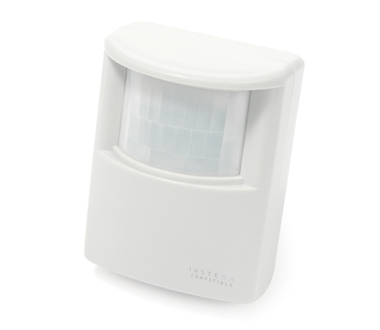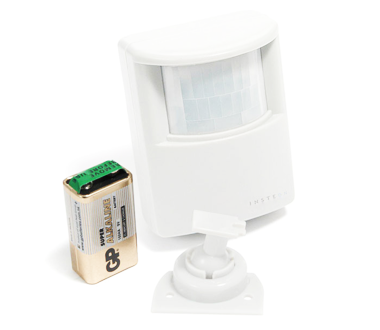 Buy now
Insteon Motion Sensor
Turn on your Insteon-controlled lights or appliances when you enter the room and turn them off after you've left. Truly automating your lighting, this motion sensor is perfect for areas of your home such as the laundry room, closets and the garage where lights commonly get left on.
Automatically turns on Insteon lights or appliances when motion is detected
Automatically turns off after motion stops (adjustable up to 2 hours delay)
Optional night-only mode keeps lights from turning on during the day
Adjustable high/low motion sensitivity provides flexible placement
Optional dusk/dawn lighting control using a built-in photocell

Insteon
Controller

Insteon
Wireless

Battery
Operated

Plug & Play
Installation

Two Year
Warranty
Overview
Use this Insteon Motion Sensor for indoor or outdoor applications, and link it to Insteon relay or dimmer modules. You can even have the motion sensor trigger your Insteon Thermostat to a favourite comfort level when you enter your home or any room in your house.
Additional features include an adjustable 'Off' countdown timer delay, night-only mode with adjustable light sensitivity settings, adjustable motion sensitivity, wireless range of up to 45m, 12m field of vision and a pivoting mounting bracket. Insteon Motion sensor is a must-have for any Insteon home automation network as an addition that will make your life more convenient, fun and energy-efficient. A 9 Volt battery is required and included.
How it works
When the Insteon Motion Sensor detects motion it sends a wireless RF signal to the nearest Insteon dual-mesh module which in turn relays the signal to turn on linked Insteon devices such as lamps or appliances. After a selectable time of no motion, you can even have the sensor turn those same lights (or appliances) off.
The Insteon Motion Sensor also features a secondary dusk / dawn control feature that is accessible with computer controllers. It allows you to set a device or group of devices to activate when the photocell detects a change in light or dark conditions for more than 3.5 minutes. Great for automatically controlling landscape lighting and more.

Never leave another light on again
The Insteon Motion Sensor is a great energy-saver: Your lights will turn on when you enter and automatically turn off after you leave, so you'll never have to worry about leaving your lights on by accident. Also, the Insteon Motion Sensor has a built-in photocell, so it can be disabled during the day. If daylight is enough to light your house during the day, the Insteon Motion Sensor can leave the lights off, even when motion is detected. Using the Insteon Motion Sensor to limit the amount of time lights are on, is a great first step towards saving energy, money and protecting the environment.
Dusk / Dawn photocell sensor
Save energy by ensuring lights are off at dawn or turn your porch lights on at dusk with Insteon Motion Sensor's dusk / dawn feature. When used with supported Insteon software or the Insteon Hub, the Insteon Motion Sensor can also be used as a dusk/dawn sensor. After it has been bright for 3 and a half minutes, the Motion Sensor will send an Off command for its 'Group 2', which can be used to turn off lights and appliances or trigger a software event. Conversely, it will send an On command after it has been dark for 3 and a half minutes.
Low battery warning
Get notified when it's time to change the battery. Insteon Motion Sensor has 2 methods of indicating the battery life is low:
LED double-flashes after motion is detected (even if LED is disabled)
On command is sent to 'Group 3', which can be utilized with Insteon software or an Insteon automation controller
Easy installation and paintable
The Insteon Motion Sensor includes an easy to install, adjustable pivot mounting bracket has been manufactured with a surface that can be painted to blend in with your home décor. This gives you the ability to decide exactly what colour will give your motion sensor installation a professional finished look.
Specifications
+
Product Links

Brochure

Quick Start Guide

Owner's Manual
The Insteon Range
Controllers
Responders
Accessories

Request more information
Please enter your details to receive more information about Insteon, and to be kept up to date about product development and releases.